What are 'Favourites'?
You can add the web sites that you like to your Favourites!
This means that, if you want to visit the site again, you don't have to spend a long time remembering and typing the address in to the Address bar.
---
First, let's find out how to add a web page to your favourites list....
1) When you have found a web site that you like (and you think you might like to come back to in the future), click on 'Favourites' which can be found on the menu bar at the top of the screen. Then click on 'Add to Favourites'
2) A box will then appear. You can now click on
'Add'
to add the page to your favourites. You could also:
Change the name that the favourite page is saved as, by typing in the 'Name' box.
Save the favourite page in one of your folders. This helps to organise the favourites if you have a lot of them.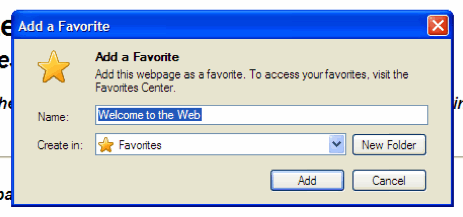 Have you noticed something strange about the spelling of 'Favourites' on this page?
---
Make sure that you remember what to do. You will need to know for the challenge on the next page. Click on the blue arrow below...